Uniform & Equipment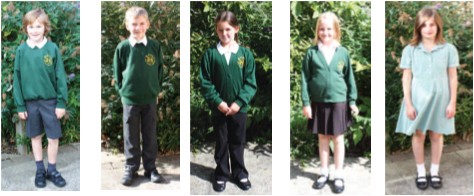 All our children are expected to wear school uniform, which includes:
For the school day
School green sweatshirt/cardigan
White shirt or polo shirt
Grey/black skirt, trousers or shorts, Flat, comfortable, smart, black shoes
Green checked dress in summer (optional)
For PE
Black shorts
White school PE shirt
Plimsolls (inside)
Trainers (outside only)
Black tracksuit bottoms
No glass spectacles, watches or jewellery
For Playtime
Trainers are not allowed in the school building but can be worn at playtime and outdoor PE
School fleece/waterproof (which are reversible for rainy days)
For Art and Craft
An old shirt
Pupils are expected to have haircuts that do not attract unusual attention to themselves (eg Mohican haircuts or shaved heads, extravagant hair adornments etc).
Equipment includes:
A school water bottle so children have access to fresh water all day
A pencil case with coloured pencils, a rubber, ruler, pencils and pens
All uniform should be labelled with your child's full name and class
Uniform can be purchased either at the The Schoolwear Centre in Addington Street, Margate, or online at yourschooluniform.com. Click on the link below.