School Dinners, Free School Meals and Menu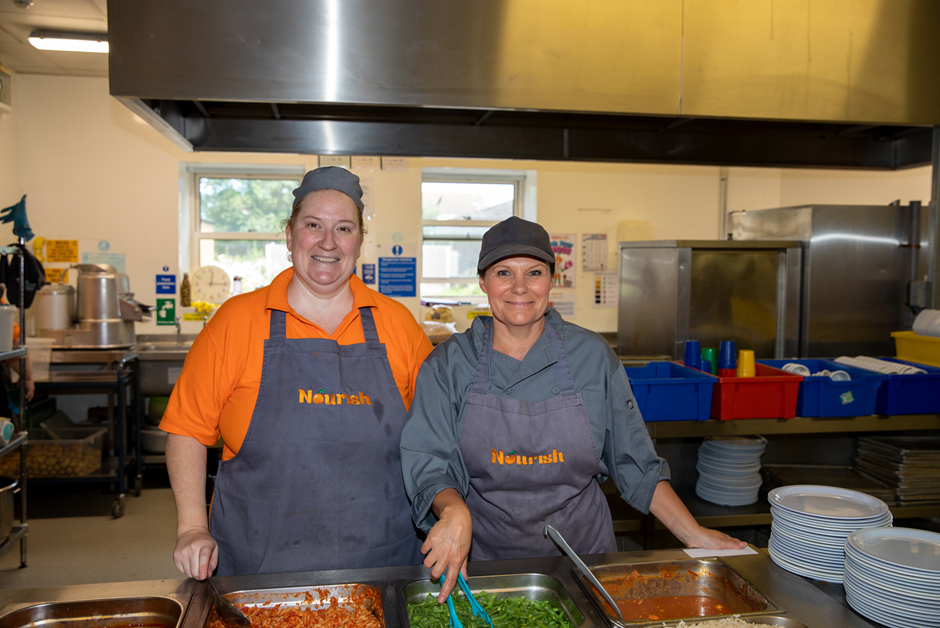 Our catering contractor, Nourish, provide fresh and healthy meals for our children, prepared on-site every day. The cost of a hot meal is £2.70 per day and there is always a choice for the children (see menu below).
Dinner money must be paid via the St. Peter's school payment system, School Gateway, and the money goes direct to Nourish catering. We no longer accept cash or cheque to Nourish, this must be paid online.
Some children choose to have a packed lunch some days and hot meals on others and this is fine - the dinner registers are taken every morning, so please ensure your child tells the teacher if they are not having their usual lunch on a particular day.
Free School Meals- the advantages to your family and to the school
Did you know… just registering your child for Free School Meals means that the school gets extra money? Register now so that your child gets the full advantage.
Apply confidentially online at http://www.kent.gov.uk/education-and-children/schools/free-school-meals or contact the School Office.
The Department for Education asks us to remind parents to apply for free school meals if they are eligible. Since the introduction of Universal Free School Meals, many children are missing out because eligible families are not registering –Don't let your child miss out.
You only have to do this once and the school will be allocated Pupil Premium funding to provide additional opportunities for your child for the next 6 years.
Register for Free School Meals
For every child registered, the school gets an additional £1,385 per year. With this money we can improve the provision and resources at St Peter's and subsidise other opportunities such as educational visits or wider learning opportunities.
How does it work?
First, you can check if you qualify – it is not just if you are unemployed, so please look at the list below.
Registering is really quick and easy – if you think you qualify, please apply either online, telephone 03000 415123 or speak to the school office who would be happy to help you to apply online.
If you want your child to have a free, healthy meal at lunchtime that's great – they will get the free meal (saving you more than £400 a year) and the school gets the additional funding.
If you don't want your child to have the school meals they don't have to; they can continue as normal – as long as you qualify and are registered, the school still gets the additional funding.
No one will know you have registered [it is confidential] and it will not affect any other benefits you are claiming. All children taking meals simply answer the register – no one in class will know who pays and who does not.
Do you qualify?
Your child may be able to get free school meals if you get any of the following:
Income Support
Income-based Jobseeker's Allowance
Income-related Employment and Support Allowance
Support under Part VI of the Immigration and Asylum Act 1999
The guaranteed element of Pension Credit
Child Tax Credit (provided you're not also entitled to Working Tax Credit and have an annual gross income of no more than £16,190)
Working Tax Credit run-on - paid for 4 weeks after you stop qualifying for Working Tax Credit
Universal Credit - if you apply on or after 1 April 2018 your household income must be less than £7,400 a year (after tax and not including any benefits you get)