St. Peter's groups selected from over 600 entries to Shakespeare Week Competition!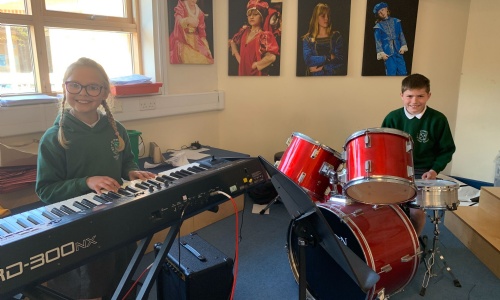 This year we entered the Shakespeare Week Competition 2021 which was about exploring your identity, being true to yourself and well being. G and T drama had to respond to the quote "To thine own self be true" using the arts discipline of their choice. The four groups chose to respond very differently - two created an improvisation celebrating their differences, one group wrote and played a song and the last choreographed and performed a dance.
There were six hundred entries to the competition from primary schools across the country. We were lucky enough to find out that all four of our entries had gone through to the second round. Quite a feat when they were up against so much competition. Well done Oliver, Georgia and Olivia K and Riley, Mia and Katherine in year 5 for creating such good pieces that showed how you are true to yourselves.
This week we found that two of our entries had gone further into the competition and were now in the final round. Will and Daisy's song To Thine Own Self Be True and the lyrical dance created by Matilda, Delilah, Olivia C in year 6 and Daisy in year 5 for your piece to "Who You Are". It truly is remarkable to face such competition and end up in the final round.
We now have to wait and see where we place in the final next week. Whatever the outcome I am exceptionally proud of the talented, creative and confident children we have and that they are courageous enough to be true to themselves.