Double Success at Super Saturday!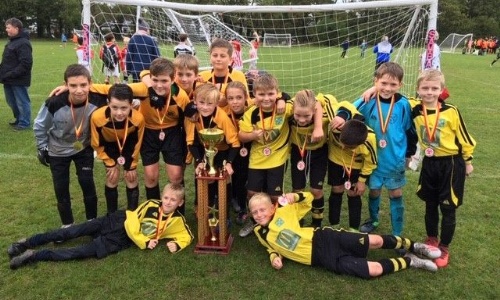 Well done to our two amazing teams at the Super Saturday Football Tournament at Upton Junior School on Saturday 12th October. They played with great team spirit and showed excellent sportsmanship in all games and we are incredibly proud.
The Year 6 team won the Super Saturday trophy and the Year 5 team won their group shield – an incredible achievement considering they were a last minute entry the day before when another school team dropped out!
A special well done to three Year 6 children who offered to play with the Year 5 team; Sam, Mercy and especially Frankie, who gave up his place in the Year 6 team to play for the shield. Frankie, you put the needs of your school ahead of yourself, great teamwork!
We must say a special thank you to Mr Tift and Mr Websper from Ramsgate Holy Trinity School, who had two teams of their own and also performed extremely well! They stepped in to Mr Allen's shoes whilst he is still recovering and did an excellent job coaching. Thank you also to Mr Bussey who gave up his free time to come and support, as well as all the parents and supporters that cheered us on all the way to victory.
Most importantly, teachers and parents from other schools commented on our players' positive attitudes on the pitch. We are most proud of this!