Abigail wins the Turner Contemporary Portfolio Competition 2019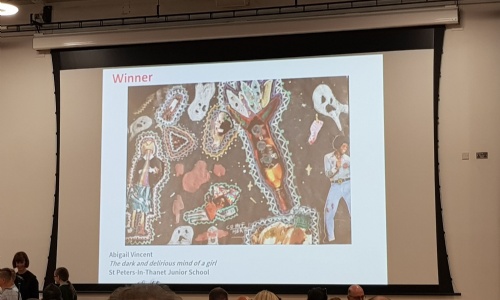 Well done to Abigail in Year 6 who has won the 2019 Turner Contemporary Portfolio Art Competition, in association with Canterbury Christ Church University.
A Turner Gallery spokesman explained, "This year our Portfolio theme takes inspiration from one of the most controversial visual art prizes in the world, The Turner Prize, which we'll be hosting in autumn 2019. The competition encourages artists to break the mould by making new work that is daring, different and will get people talking. This is their chance to explore what it means to be an art rebel, take a risk and find out if you're one too."
Abigail came first in her category of 452 entries across Kent and Medway. Her work will now be displayed in The Turner Contemporary throughout June-September 2019.
Her artwork and the meaning behind it can be found here - https://portfolioartcompetition.com/gallery/?entry=3964